3. Philip Christou







Architect, Artist, Educator
London - UK

'Author as Producer'




Philip Christou is an architect, artist and architectural educator, born in Alberta, Western Canada. He was educated at McGill University, Montreal, before studying Fine Art at the University of Lethbridge and the Nova Scotia College of Art and Design in Halifax. Philip then moved to London where he studied at the Architectural Association.

For a number of years, Philip worked alongside Florian Beigel in the Architecture Research Unit (ARU), London Metropolitan University. Since its inception in 1974, the ARU acted as a design laboratory for design-based research, conducting building studies across a variety of scales, and mediums. This practice was seen as a methodology for producing innovative responses to architecture, interiors and urban design. Conceived as a single function, thinking and doing were amalgamated through a synthesis of drawing, making and building. As the ARU, Florian and Philip designed several buildings, including the Youhwadang book hall and the Youlhwadang publishing houses, as well as formulating the urban and landscape design, all at Paju Book City, outside of Seoul.

The scope of the ARU went beyond building and alongside students, published several books including 'Urban Figures' and 'Baukunst: The Art of Building'. These were self-published under the ARU moniker as Philip discusses in the interview and provided an on-going reference point for students and professionals alike. In addition to these books of architectural reference projects, they wrote and designed several books on their own works, that were published elsewhere, including: 'Architecture as City: Saemangeum Island City', 'The Idea of City', and 'Translations'.

We arrived at Philip Christou's beautiful Hampstead house to find a series of books neatly laid out. The ensuing interview took a slightly different format with Philip talking through a series of different book types: text-based, photography, new, art, individual building studies and an Arch-ive first - cooking. Philip proceeded to walk us through a number of books in each category, discussing and divulging the key moments that have been pivotal to his own life and work.




How many books do you currently have in your office?

I don't know the numbers, but most of the collection is in these shelves. All of these books were in the studio of the Architecture Research Unit office at London Met, when it was at the Holloway Road. A client had given us some big steel archive sliding shelves, which we used for our library, product catalogues, material samples, job files, everything…When the School of Architecture at London Met University and the ARU moved to Aldgate in East London, we didn't have enough space in our new office for the steel shelves, so we designed these free-standing oak cabinets with glass doors. There's two in this room, differing slightly in size and two others in the study next door. I'm not sure how many books there are here, a few hundred perhaps. As you can see, there are more piled up, still accumulating.




Is there any kind of organisation to them?

Yes, there is. This section is on Korean books, largely given to us by the publisher, Youl Hwa Dang, who was also our client. They are wonderful and very beautiful art books. I will show you two of these shortly. These are our own publications - the ones that I think are particularly important. A section on cooking books, moving through to ancient cultures, ancient architecture…That shelf is mainly Hans Josephsohn and Peter Märkli. Art books and landscapes; a few more Korean books and finally art books. Loosely, this cupboard is the art and culture section. Then on the other side, it is mostly architecture and photography. In the other room, there's a bit of philosophy and literature, and more art and architecture books.





"Smithson discusses the creation of a dialectical landscape, not one thing or the other, but instead a landscape that is changing all the time - a dialect; elements that flow, or change in relation to one another. There's something ancient about it, an underlying geology of Manhattan that Olmsted has somehow revealed."




TEXT BASED

A lot of the text-based literature is nice to have on the shelf, even if you haven't read it. I find it comforting that you know it is there and you can refer to it if you want. This is a favorite of Florian and mine, 'The Writings of Robert Smithson'. I first discovered it whilst in my second year at the Architectural Association. Chris Macdonald and Peter Salter were my tutors and Chris lent me his copy of the book. Despite his instruction to carefully look after it, I got his copy wet in the rain! He was rather angry as it was of particular value to him. There's a number of essays in here that I've come back to over and over again. For example, Smithson here is writing about Olmsted's design for Central Park in New York, 'Frederick Law Olmsted and the dialectical landscape'. Following a brief history of the picturesque in eighteenth-century England, Smithson goes on to discuss the creation of a dialectical landscape, not one thing or the other, but instead a landscape that is changing all the time - a dialect; elements that flow, or change in relation to one another. There's something ancient about it, an underlying geology of Manhattan that Olmsted has somehow revealed. It's a spectacular piece of writing because it intrinsically describes Smithson as an artist, what he was really interested in.

I must say, from the outset, that neither Florian nor I were particularly literary. We were much more visually orientated. There are certainly texts, philosophical texts that we have read, but I cannot suggest for a second that we are academic in the literary sense. Mostly because there's not enough time to read, or one doesn't give oneself enough time to read. For me, going ahead to the design stage is the fundamental priority. However, Walter Benjamin, especially for Florian, was a revelation, particularly when working on the Half Moon Theatre. The idea of 'epic theatre' that Benjamin talks about in this book about the ideas of Bertolt Brecht was critical; the importance of the conditions of the place and the act of revealing, or exposing them. In Benjamin's writing he discusses this idea of theatre without illusion, it represents conditions. It is a backdrop or platform on which the contradictions of our society are acted out. This can also be equated with the architects' role, to render the conditions that exist around us seeable and understandable.

In a similar way to what you were discussing earlier with Smithson - the underlying rootedness of place.

Exactly. This is a lovely book called 'Understanding Brecht' by Benjamin. He speaks about Bertolt Brecht and his ideas on theatre:

"The job of epic theatre, it has been explained, is not so much to develop actions as to represent conditions. Most of the slogans of the dramaturgy of epic theatre have been ignored but this one has, at least, created a misunderstanding. Reason enough to take it up. Those 'conditions' which had to be represented were thought to be the equivalent of the 'milieu', or social setting, of earlier theoreticians. Thus understood, the demand meant no more than a plea for a return to naturalistic drama. Yet no one can be naive enough to champion such a return. The naturalistic stage is in no sense a public platform, it is entirely illusionistic. Its own awareness that it is theatre cannot fertilize it; like every theatre of unfolding action, it must repress this awareness so as to pursue undistracted its aim of portraying the real. Epic theatre, by contrast, incessantly derives a lively and productive consciousness from the fact that it is theatre. This consciousness enables it to treat elements of reality as though it were setting up an experiment, with the 'conditions' at the end of the experiment, not at the beginning. Thus they are not brought closer to the spectator, but distanced from him. When he recognizes them as real conditions it is not, as in naturalistic theatre, with complacency, but with astonishment."




I think the German word they would use is verfremden, a certain kind of distancing, or alienation brought about by astonishment or amazement, which takes place through an interruption of happenings. Whilst Florian was working on the Half Moon Theatre in London, his first major building, this idea was in his mind, whether he had directly related it to the text or not; the idea was to make the theatre as a street, a theatrical street but ultimately an everyday place. It is slightly illusionistic, but not in the same sense as the 'black box' theatre where your eye is focused on a specific action with a spotlight.

That's very interesting. It makes you think about the similarity of theatres and the way they trick you into thinking there's nothing behind the stage; the audience pretending they don't know what is going on behind but in reality, they do. The audience is trying to pretend the 'theatre' doesn't exist, but when you come to think about it, if you accept that it is a theatre, does it really detract from the performance or the illusion?

Just the act of watching the action on stage is not all that is going on. Florian would often use a quote from Brecht about creating 'that boxing ring scenario'. There is a main action or focus, but there's also someone having a drink over there, or a conversation taking place in another corner. It's real life. The audience is as much part of the spectacle as the performance itself. Florian introduced windows to the galleries at the theatre, which meant that people could sit up there, as if was a real house looking down at the street. I remember he would often say that he wanted to create a situation where 'people can see and be seen'.

A complexity of narratives. In my mind, the ultimate example of this is John Cage's '4'33', where the musicians sit in silence and the musical score is the surrounding conditions, completely different every time.

Exactly. I'll briefly talk about one more Benjamin book. This is one of my favorite essays, 'The Author as Producer' from 'Reflections: Essays, Aphorisms, Autobiographical Writings.' I remember this was a key text suggested by the artist Dan Graham when I was at art college in Halifax, Nova Scotia in the late 70s. It was a lecture that Benjamin gave in the early 30s to fellow writers and poets, as a plea on how they, as authors, could combat fascism. He is arguing that it isn't enough to produce political sloganeering, but instead, it is the way you write, the literary form and the advances that you make within the discipline that is the best form of resistance to this autocratic authoritarianism. I think this is really powerful. It's clear in every discipline, even today, with creating environmentally conscious architecture, for example. You cannot just claim to be sustainable. You have to prove it by actually doing it, in a way that advances the technique or the discipline. It is within the production - author as producer. Pushing this advancement forward is the strongest way of combating oppression.





PHOTOGRAPHY

This is a book of photos by the Korean photographer Kang Woon-gu, published by Youl Hwa Dang, who we designed two buildings for. These photographs were taken in the 1970s in Korea, perhaps something similar to the way Cartier-Bresson made photos, a documentary of the culture and the land. You cannot use these directly in design, but it is the spirit of it that one can understand. For example, in a photo like this, there's a sense of real respect for the landscape. Not just its beauty, but an ancient respect, or closeness to the land that the farmer has; the relationship to place that indigenous, or nomadic people have, a relationship at its most intense. They are in-tune to the shape and cycles of the environment in which they reside, not only the seasons, but beyond that, the feeling of it - the genius-loci.

They are clever photographs, in the sense that the spectator is always below the horizon and almost lost within the view, as if they are part of the land. You have to work quite hard to see the figure against the landscape.

Yes, it is interesting how there is always a figure. At the time, Kang Woon-gu was travelling around Korea, taking photographs. It is only 30 or 40 years ago but it is a Korea that doesn't really exist anymore, not in many places at least.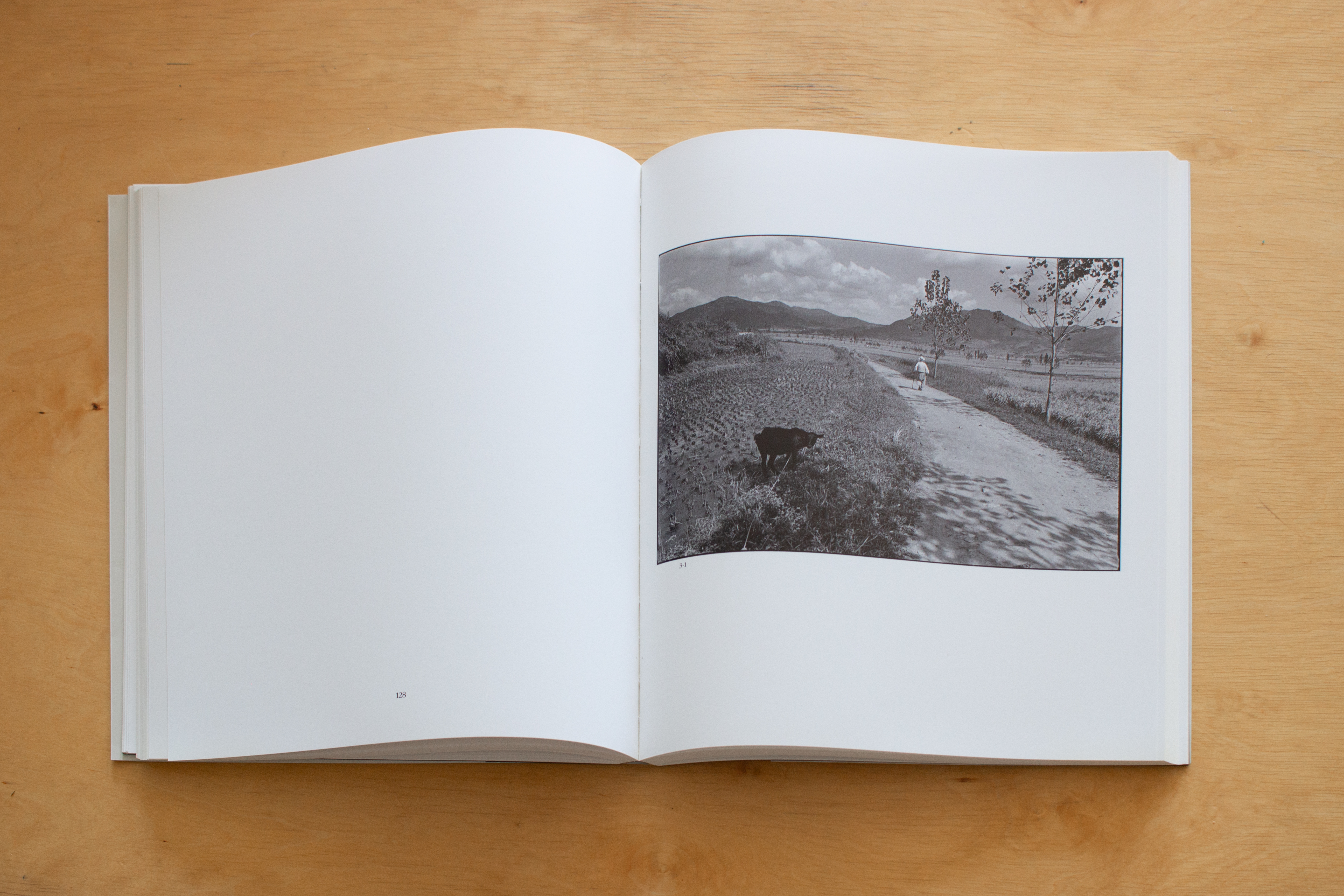 "In a photo like this, there's a sense of real respect for the landscape. Not just its beauty, but an ancient respect, or closeness to the land that the farmer has; the relationship to place that indigenous, or nomadic people have, a relationship at its most intense."




This series is of a gentleman walking through a flat landscape, along a country road with mountains in the distance. We used this photographic series in a project, 'Architecture as City: Saemangeum Island City'; a large new citylandscape design in Korea. We used this photograph to describe the sense of a place that you might be able to evoke when designing a new city there. You have to be responsive to the nature of that place, paying it respect that goes beyond beauty. You have to understand the qualities of the place, the embedded culture that is somehow in those mountains; the cultural memory. For me, that photograph is extremely evocative. It helped me gain an understanding of that part of the world, a better understanding of the Korean nature and culture. I could say the same about a lot of the art books I have on the table here. This is a book by the same photographer. In this series, he takes photographs of a landscape and then the same photograph 20 years later. Although it has changed a lot, he is not trying to critique this, but rather just highlight how it has changed.



This next book is by Bernd and Hilla Becher, which for us is much more instrumental when looking at a design project. We would go as far as counting the number of bricks making up a panel between steel stanchions, investigating how far the brick is spanning - using the photo as a direct reference. These photographs are so inspiring for architects, so inventive. They have a real focus on the spirit of the building, but also the technique and composition. We took a lot of inspiration from the irregularity in these facades, and how the various structural elements form relaxed and natural relationships with each other. I'm particularly fond of this 'catalogue' style of book, either of pictures, drawings or paintings. I guess there is an essay, but I've never read it. For me, that's not the point.



Another example of this style of book was given to Florian and myself by Peter Märkli. It is an early-twentieth or late-nineteenth century book purchased from an antiquarian bookshop in Zurich. Photographs of churches in Southern Italy, photographs of medieval facades, very similar to the Becher book. It is from another era, another culture, so stylistically it would not make sense to copy this in a design. However as a form of inspiration on composition and form, it is magical. There is something about a catalogue like this that I have a real affinity with.

It's a lovely format as well - single sheets within a linen sleeve. It lends itself to creating 'plates' that suit this type of book.




Yes, definitely. I would imagine that a lot of the images then get sold off as individually framed photographs. This one Märkli references in lectures. Amazing, isn't it? It is not quite centered, but is directly underneath the shed roof of the church, which isn't in the center of the building, somehow balancing the composition. The colonnade runs off the edge, as if it has been cut, or applied to this 'shed' - not quite evenly. So easy, yet so refined and elegant. The proportions created are fantastic. The subtle manipulation of form gives the building life. How these doors appear symmetrical, but one is narrower than the other, abutting the ground here. I love this type of book - a catalogue of opportunities.

Similar to the Lewerentz photographs that were discovered, where he'd taken close-up, abstract shots; how materials meet; ornamentation; heavy, thick-set walls; and so on. It is quite similar to these in a way; a collection of resources that he has collected.

Exactly. I don't know if he used them or it was just the fact that he knew they were there. That memory of taking the photograph was perhaps enough. There's a great essay about those photographs in '9H No. 9; On Continuity' where they were first published.






"Marot argues agriculture and architecture are one and the same thing. This relationship is critical as we must start considering how we are changing that environment, not just the relationship between landscape and the city but how we are intervening in that environment."




NEW BOOKS

There are some really interesting books being published at the moment. 'Ideas of Ambiente: History and Bourgeois Ethics in the Construction of Modern Milan 1881-1969' focuses on a fantastic period in Milan's history. This idea of ambiente is fascinating, meaning to 'go around' or surround'; the environment in which someone, or something exists, connecting ecology, the natural world, cultural and social sciences, and architecture. I learned about this book when reading your interview with Tony Fretton recently.

This set of books, 'The Poetics of Reason' was published as part of the 2019 Lisbon Triennale. Sébastien Marot focuses on agriculture and architecture, calling his book, 'Taking the Country's Side Agriculture and Architecture'. Marot is currently a tutor in environmental history and theories at the EPFL in Lausanne. He has been researching and lecturing about the history of the human intervention in the environment since the early 1990s. He brings together the history of architecture, landscape, agriculture and urban design. He starts at the Neolithic Age, when we first started building cities, arguing that agriculture and architecture are one and the same thing. This relationship is critical as we must start considering how we are changing that environment, not just the relationship between landscape and the city but how we are intervening in that environment. Marot is not so much making an argument, but rather collecting and cataloguing different methods and approaches. One focus is on a group of people in Australia who wrote books on permaculture, (permanent agriculture) based on a forest ecology in the late 1970's, and have practiced and demonstrated how this can be done in their stewardship of the land ever since. They are trying to create something beyond a monoculture, an inter-related agriculture connecting plants and animals and humans.




The other four booklets, each referring to a separate exhibition theme of the Triennale, are also excellent. 'Economy of Means', by Éric Lapierre, who curated the overall exhibition, is a lovely essay on architecture. The exhibition disappears, but what gets left behind is a beautiful, and useful set of little books. They don't show the full extent of the exhibition itself but rather, the research that went into the exhibition, a fantastic resource.

Have you found the making of books with the ARU has been critical to recording your own ideas and that of students?

Most definitely. We were creating a book with students every year for about eight or nine years. Since the late 1980's Florian always had students preparing precedent studies, which would often be made into small photocopied booklets that the students could refer to. We always pushed students to visit the precedent if they possibly could, study it, draw it, create their own opinion about the reference. It was essential that students went beyond an internet search. In the 2000's, when it became possible to digitally layout out the books and self-publish, we decided to make and sell these books, allowing other students to use the resource as well. It became a great reference tool during the design process and we were adamant that students should actively use it.

This is a series produced at ETH Zurich, called 'Confessions' by Studio Jan de Vylder as part of his professorship there. He calls his Chair 'Carousel | Confessions | Confusions' and asks various friends and colleagues to choose a building or place that was either important to their childhood, possibly outside of the classical architectural remit. The invited colleague writes a short essay, a historian writes another, Filip Dujardin takes some beautiful photographs and Inge Vinck produces a drawing that envelops the cover and is printed as a centre-fold page in each book.



Momoyo Kaijima decided to write about Lucien Kroll's student housing at the University of Louvain in Belgium that she had first seen in a Japanese magazine published in 1988, when she was a student. She was fascinated by these very ad-hoc buildings and had never had the opportunity to visit them. As a result of this project, she was able finally to go and visit Kroll's building and see it within a contemporary perspective. It means something completely different now to when it was built. Similarly, the long-lasting nature of a book publication as a format means that in another 20 or 40 years-time, the building can be re-visited and re-framed once again. Inge produces a drawing and Momoyo writes a passage of text. It is a dialogue between friends and colleagues, personal, as well as a record. The publishing of a book records this process, rather than for example, just having it as a lecture event. It is a lovely series and I really commend Jan and his team for producing it. This is an on-going project and only the first few booklets have so far been published.

Finally, I just received a magazine yesterday called 'Dixit', published by 'Editions Cosa Mentale'. This is the first issue of the magazine and I must say, I'm interested in the spirit of it. The editorial board includes a young French architect, Claudia Mion who, together with her colleague Fabio Don were editors of the lovely book, 'Peter Märkli Drawings' published by Quart Verlag in 2015. Editions Cosa Mentale published a book in 2019 titled, 'Peter Märkli In Search of a Language: A Journey into Peter Märkli's Imaginary'. Based on a student thesis, the author, Giorgio Azzaritti went on a tour of Märkli's as well as Rudolf Olgiati's and several of Andrea Palladio's buildings, which then leads into a useful and informative essay with a lot of depth. Then there's a section of the book with drawings of the projects. It's not like a monograph in the typical sense. It weaves together drawings, photographs, interviews, essays, in a similar fashion to Marie-José Van Hee's fantastic new book, 'More Home, More Garden'.






"I like these kind of catalogues, with such a rich spectrum of ideas. Just look at that gap, a void as intricate, or as potent as the form itself."




ART BOOKS

This book is a real favourite. I have several books on Morandi, but I think the colour reproduction and the selection of the paintings in this book make it my favourite. It covers a later period of his work, 1950-64. I have not read the text, but I find such joy in the colour and spirit of the paintings.

It is interesting that with a book and an artist that means so much to you that you haven't read the text. In a way, you have made up your own mind, you haven't had a critic or theorist telling you what you are supposed to know; it's based on your own intuition, your own definition of art, or architecture.

Exactly, it might be wrong, but ultimately that is how I feel about it.

I like these kind of catalogues, with such a rich spectrum of ideas. Just look at that gap, a void as intricate, or as potent as the form itself. They are a fantastic resource in the design process, to be able to pull this book from the shelf and somehow relate to it in a design discussion. It's influence can be indirect, but it is there in the discussion.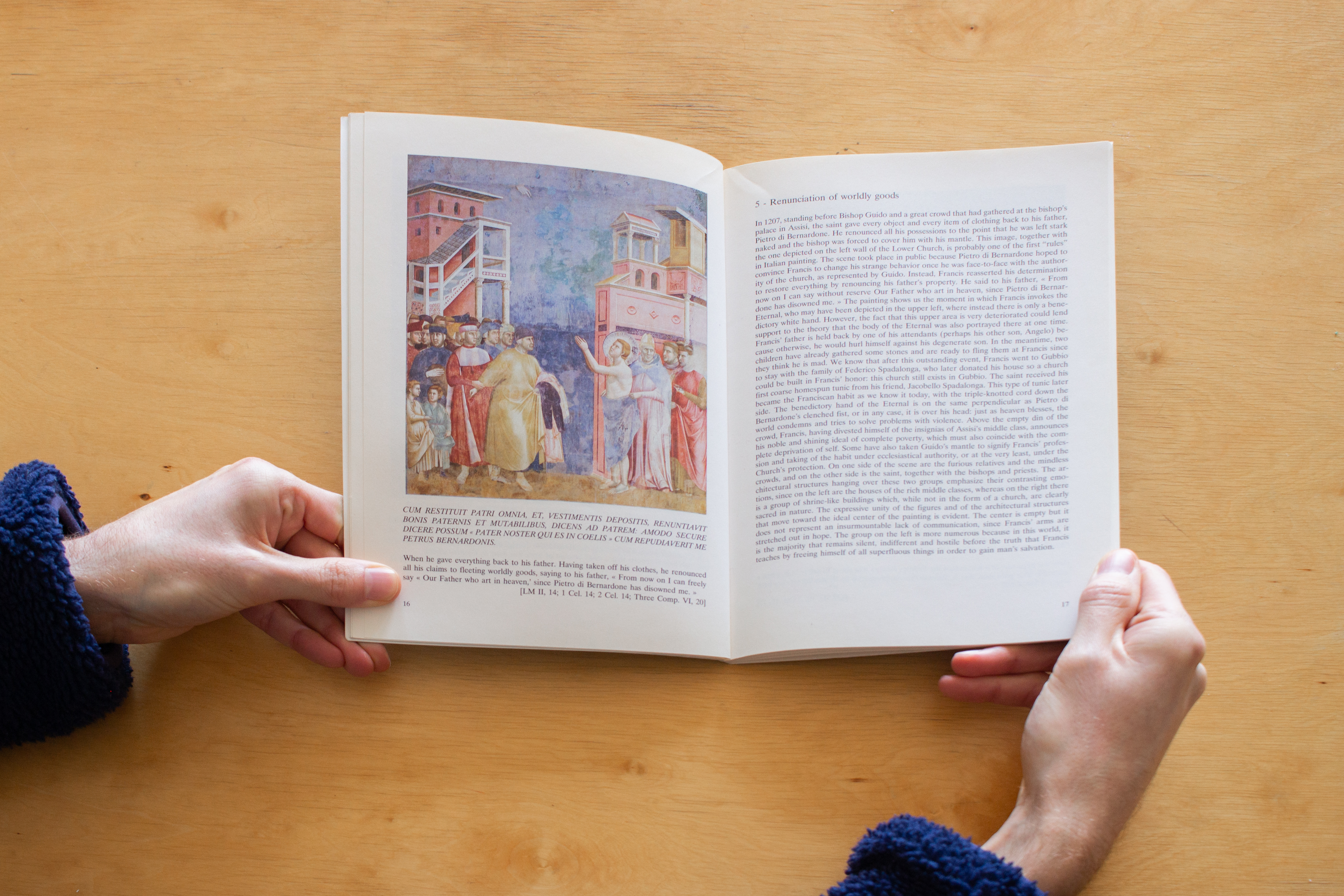 This book is similar, a series of Giotto's frescoes in Assisi. They are amazing representations of 'toy-like' buildings, a wonderful and magical imaginary, quite idyllic. I guess you could say they are almost dream-like. Beyond that, they are abstract and characterful. I guess it would be ridiculous to copy one of these, but to think and dwell upon…fascinating.

This is a beautiful book that I'm really proud to own, a catalogue of an early Thomas Struth exhibition in Chicago in 1990, I suppose when he was first introduced to the international art scene. He takes these incredible photographs of cities in black and white, somehow always without cars and people. They must be taken very early in the morning. Tokyo and nobody there! It is quite spooky. This exhibition presented many different cities, completely different places, all as a single body of work.


BUILDING STUDIES

The next type of book I want to show you is the singular building study. If these are properly done, they can be fantastic resources. This one is about Coderch's apartment block in Barceloneta. The final result is a beautiful plan and this book shows you the progression, his design development. It's in Spanish or Catalan so I've never read it, but you almost don't need to. You can see the progression, for example how he is setting up the diagonal flow, how the staircase works. You see the final plan as a result, which leads into a series of photographs focusing on the intermediate space between the louvered shutters on the external façade and the internal rooms. Partially enclosed balconies bleeding into the room, in-between spaces, traversing from a room to a balcony all within the same layer of the facade. You can imagine its beauty on a hot summer day. A comprehensive book about one building. It has Coderch's own photographs in it, highlighting the diagonal arrangement and the flow towards the windows. A fantastic archive.



This book is similar in style, Luigi Snozzi's 'Monte Carasso: La ricera di un centro' with photographs by Gabriele Basilico. It is a photography book, not just of the buildings in the centre, but in the wider region, for example along the motorway. It showcases the varying scales of Snozzi's work in Monte Carasso and the very abstract houses he created. Distinct concrete houses in his own style, following a principle that you should build directly up to the edge of the street, as they did in Medieval times, rather than place the house in the center of the plot. During his tenure as town architect, Snozzi removed around 100 or so planning laws, instead approving designs himself to ensure the satisfactory development of the town. Although he didn't expect it, people started constructing buildings similar to his own. He wanted to turn the monastery into a school but the historic preservation society would not let him initially. Snozzi set about building the mayor's house, a sports centre and expanding the cemetery. Before he was involved in the project the plan was to locate a new school along the motorway between towns. Snozzi convinced the mayor and the people that the new school should be built in the ruined and disused Medieval convent right in the town centre, a fundamental piece in its regeneration. Snozzi understood that he would not be town architect forever, so rather that instilling a fixed plan, he went about setting up limits and boundaries. He was clear that a complete 'masterplan' determined by him was not the way forward.





COOKING

Finally, this is a very special cook book by Claudia Roden, published in 1987 following a BBC TV series on Mediterranean cooking. She travelled around Greece, France, Spain and Italy; the north coast of Africa, Egpyt, Morocco; as well as the eastern fringe of the Middle East, Lebanon; and so on. She went to the markets and the kitchens, to witness the sources of the cooking. It seems common now, but at the time it was rather unique. She questioned how location and regionality impacted food, why was this dish different in Morocco to the way it is made in Spain? Each section traverses various countries, giving context to the recipe. It has some spectacular dishes in it. This is one of my favourites; a simple spaghetti with a cold tomato sauce. You get a real sense of the Mediterranean influence, the distinctiveness of the cuisine, but also how they blend into one another. You get a real sense of the Islamic and Arabic influence. It was critically important to the development of the Mediterranean and Europe, but it seldom gets talked about in architectural history. We are now finding out that perhaps the Renaissance would not have taken place if ancient texts were not translated into Arabic and sent to Córdoba, ultimately translated into Latin by French and Italian scholars. These texts were not available prior to this and they fueled the intellectual mind of the Renaissance. The Islamic libraries were the source of that. Incredible.








All photography by Tim Lucas unless otherwise stated.

Instagram